Distance Learning: A Student's Perspective on Learning Beyond the Classroom
Hello, I am Gabriella, and I am currently a junior at the Pan American School. I am here to talk a little bit about my experience as a student at our school during distance learning. Distance learning has been a very challenging experience, but our school and teachers have done a great job of adapting and helping us students to adapt to this situation. PAS POA has always taught us to be problem-solvers, and since primary school, we have been instructed on how to do our work and find answers to our questions by working with our classmates. We always hear our teachers say, "Ask three before me," meaning, "have you tried finding the answer in other sources." Right now, in this context of distance learning, we must do exactly that! 
Being a small school, we are known to be very united and very close to our teachers and classmates, and for me, it has not been easy to be away for so long! I have studied at PAS POA since P3, and I have never been away from my teachers and classmates for so long. What I have found to be extremely helpful is the access we have to talk to our teachers, through Google Hangouts, to clarify any doubts we have about the content. They are quick to respond and support! We have also had increased access by being able to schedule one-on-one meetings. In these meetings, I have had the opportunity to ask my questions and get the one-on-one support that makes a difference.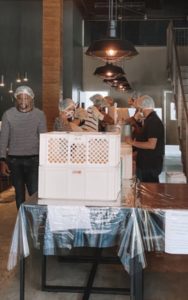 Distance learning has made me very grateful for several things. Firstly, I have had more time to develop new hobbies and expand myself as a person. With this, I made the decision to make something of this free time. During quarantine, I developed a project called "Projeto Alimente". In this project, we deliver 1500 meals per day, six days a week. The project started out small, with only 60 lunches, produced with around ten volunteers, including the Elbling family who are PAS POA alumni! We started the production on April 3rd, and by April 6th, we were able to start producing 300 lunches per day thanks to Amiche Pizzaria. We developed a system where the restaurant produced the meals, and we, the volunteers, would deliver these meals to the determined locations. With additional funds that we raised, we were able to purchase material for additional lunches including rice, beans, tomato sauce, and chicken. 
What I thought would be a small operation, took a proportion I had never imagined! We started projecting what our goal would be, and we set that we wanted the project to last until the last week of May, and during this period, we wanted to produce 45,000 meals a day, where we would need 100,000 reais. For me, I saw this as a challenge I had never encountered since one of my responsibilities would be to raise the financial resources. Yet, in a few days, we were able to reach the amount, which enabled us to grow the project even more. For the past five weeks, we have been producing at the restaurant Baro, and we were able to expand the project to 1500 meals. We have about 9 set locations where we deliver the meals, which include the neighborhoods Humaitá, Papeleiros, Vila Kedi, Teresópolis, Ilha dos Marinheiros, and many others. 
Being part of this project has certainly made my year, and has been an experience of a lifetime. I have learned so many things and had to deal with challenges I never thought I would face as a sixteen-year-old. Projeto Alimente has taught me how to be a better citizen, along with how a business works. Although we are a non-profit project, it seems like a small simulation of how a company functions. I learned how to deal with marketing, the management of the production and delivery, the control of the stock, and many other aspects that I might not have experienced during traditional schooling. Working on this project, I have earned the respect of individuals that are nearly 10 years my senior! They have treated me as a   colleague and not just another teenager. 
This project has opened several doors to life, and with the help of everyone, we are looking to expand this project even more. If you want to know information about Projeto Alimente, you can access our Instagram @projetoalimentepoa! I would be extremely happy to share my experience and answer any questions!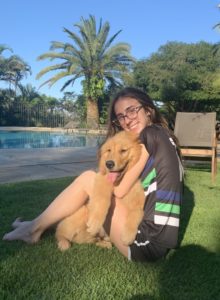 Gabriella Z., G10