---
/


School Quality
Factors and
Accreditation

As an exemplary international learning community, we promote a passion for lifelong learning, nurturing learners to strive for high standards, both in intellectual and interpersonal pursuits. At the Pan American School, we believe that we achieve academic excellence by educating the whole child, facilitating high-quality learning both inside and outside the classroom, and developing teachers as learners. Our beliefs regarding each element of academic excellence guide our priorities as a learning community and shape our students for a successful future. ​

​Our commitment to academic excellence compels us to adhere to proven standards that improve student learning and accreditation that allows for easy transferability to similarly accredited schools around the world. In the 2019-2020 school year, Pan American completed our accreditation renewal with Cognia, with ratings well above global averages. The results of the accreditation renewal provide an invaluable source of information for continuous improvement planning efforts.​

The Engagement Review Team evaluated PAS POA based on Cognia's Performance Standard Diagnostic which consists of three components built around three domains: Leadership Capacity, Learning Capacity, and Resource Capacity. A score of four or higher on any one of the seven standards indicates high performance, while a score of one through three indicates an element in need of improvement. Of the 30 indicators that comprise the three domains, PAS POA exceeded expectations in 23 of these indicators and met expectations in the remaining seven indicators. ​

​The resulting Index of Education Quality (IEQ) is reported on a scale of 100 to 400 and provides information about how the institution performs compared to expected criteria. An IEQ of 275 and above indicates the institution is beginning to reach the Impact level and is engaged in practices that are sustained over time and are becoming ingrained in the institution's culture.

We are proud to say that PAS POA achieved an IEQ of 361, almost 90 points above the network average!​


---
Technology plays a significant role in teaching and learning at Pan American. From an early age, students learn about digital citizenship and the responsible use of digital tools. In Preschool, teachers and students make good use of Smartboards and iPads for math, science and literacy. Students move onto Chromebooks in G2, and from G5, they bring their laptops as part of the BYOD (Bring your own device) program. Students and teachers purposefully develop their technology skills in authentic contexts to enhance learning and create digital artifacts and portfolios, guided by a scope and sequence developed by merging ISTE and Information Literacy standards within the PYP and MYP frameworks.​

Secondary school students actively use digital platforms in every subject area and all learning is facilitated by the use of Google Classroom. Additionally, digital skills learning is based on the CSTA Computer Science Standards and all students from G6-G9 participate in Design classes learning about the design process. Students also have the opportunity to participate in the Robotics Team (Husky Bots), where they can showcase their programming skills in competitions with other schools in the state. This year, thanks to our partnership with SAP, G9 students worked with SAP team members to apply a real case study of the UN's Sustainable Development Goals (SDG). The results of their work will be presented to the SAP CEO in September of 2020. In the 2019/2020 school year, 100% of the students enrolled in AP Computer Science Principles passed the AP exam and 20% of our teachers became Level 1 Google Certified Educators. Additionally, high school students took initiative and created the Audiovisual and Gaming Club! ​

This year, technology took on an even more significant role as we transitioned to our Distance Learning Program (DLP) in March of 2020 due to the Covid-19 pandemic. Simulations for Distance Learning were held with all students in the days leading up to campus closure. It was important that students knew what to expect and understood what would be expected of them once their virtual classes were in session. The school leadership worked with our IT team to select the best platforms and develop our DLP strategies. We adopted the SeeSaw learning management system (LMS) for Grades P3-G3. Students' fluency and independence in the use of SeeSaw were assessed using a rubric developed and adapted for each grade-level. Students in G4 and up use the Google Classroom LMS, and communication with parents continues on Bloomz and Newsweek. Additionally, changes were made to our child protection policy to ensure that our students and teachers could safely operate in the virtual world.​

This was a brand new world for all of us, and we wanted to navigate it with excellence. Check-in surveys were sent out weekly to all stakeholders. These surveys provided information on what was working, what was not working and gave room for suggestions. The data from these surveys were processed weekly and used to make adaptations to the DLP program. We are are so proud of the dedication demonstrated by our teachers, the collaboration and support of our parents, and the personal leadership shown by our students during this season of distance learning!​
In the 2019/2020 school year, the Student Support Services team (SSS) grew in both number and responsibility. The team worked directly with students, parents, and third-party providers to support all PAS POA students' social, emotional, and academic development. The team provided direct instruction through the Second Step program, regular meetings during MS and HS advisory, and Counselor's Corner time in primary school.

They also lead grade-level team meetings to discuss how to better serve those students in need of additional support, whether academically, socially, or emotionally, with the intent of creating a personalized plan of action for that student. During distance learning, the SSS team worked with teachers, students, and parents to offer a wide variety of support as the needs presented themselves during this unique time. This included individual check-ins with students, coordinating support needs, offering webinars for parents, and even participating in social media campaigns encouraging the community to practice mindfulness. ​
One of the significant innovations that Pan American demonstrated with the Social Emotional Learning program was the Animal Assisted Education (AAE). We partnered with Karina (pet therapist), who brought in canine friends, Faith and Sam, to work with students inside their classrooms. The objective was to create an environment where children would feel safe and supported to face challenges they might not feel comfortable approaching alone.

Animals influence an environment's climate with spontaneous behavior, enabling students to experience scenarios that require skills they will need in life. Throughout the program's implementation, students could shape their attitudes towards the dog therapists, becoming more secure in themselves and promoting a new sense of community and individual capability, which allowed students to become more self-confident. Exposure to different experiences can drive the students' path to success. Due to this enriching environment, our students built knowledge and were motivated towards the best possible outcomes. ​ ​
---
/
Primary School
Highlights
As part of the school-wide goal to focus on Social and Emotional Learning in the 2019/2020 school year, all grades in Primary implemented a daily Morning Meeting protocol that promoted a stronger sense of classroom community, where each child was ready to be academically and socially successful that day. Morning Meetings consist of four parts done in a 30-minute time-frame;​

​Greeting - Students and teacher greet one another by name​

Sharing - Students are welcomed to share important information about their lives, empathetic listening is encouraged ​

Group Activity - Everyone participates in a group activity to help the group grow together. This can be a game, reciting a poem, dancing or singing​

Morning message - Students will read and engage with a message written by their teacher. This message will shape the day and the work that students will do that day


/
Map Rit Averages
Grades 1-5 (Fall 2019)
/
Tilp Test Results
---
/
Secondary School
Highlights
As part of the school-wide focus on Social and Emotional learning in the 2019/2020 school year, Secondary students benefited from authentic assessment and formative assessment data that led to differentiation in the classroom and push-in initiatives in various classes where specific support needs were identified! The Student Support Service team worked closely with teachers to support individual and small group needs. Students were also provided timely and descriptive feedback to help their growth and provided opportunities for purposeful collaboration with their classmates. Students also benefited from the collaboration had amongst their teachers. Teachers worked together to enhance interdisciplinary learning and integrate different subject areas. Teachers further modeled collaboration for their students by having opportunities for sharing with colleagues, using structured peer-feedback.
Highlights​

• 12 AP courses offered - US History, World History, Calculus, Statistics, Environmental Science, Physics I and II, Computer Sciences, Biology, Seminar, Research, Macro Economics, Micro Economics. ​

• AP Seminar and Research Projects​

• MYP G10 Personal Project​

• Curriculum review and consultant work with - Ms. Bianca Begrow (Port Language and Literature, Dr. Eduardo Wolf and Felipe Pimentel - philosophy and humanities PORT/ENG, Dr. Fabio Whilhems - mental health)​

• ATL skills and habits of learning tracked via Class Charts resulting in celebration emails sent home every time students accumulate 20 positives awarded. ​

• Increased student participation in Enrichment days and School events through House Cup challenges and Service Learning.​

• Coffee chats expanded to alternative hours to include more parents- MYP, Why we teach what we teach, Alcohol and Drugs, Suicide, Mental Health, etc.​

• SLCs giving protagonism back to the students while keeping the opportunity for parents to meet with subject teachers.​

• Classroom Without Walls, PAS Talks, STEAM Day, Increased and Improved Interdisciplinary Units, Math Olympiad & Olimpíada Brasileira de Informática, Cool Projects to boost student interest and bring learning closer to real-life experiences.​

• ISSL participation with 2 silver medals - Boys' Futsal and Volleyball.​

• Fourteen students representing PAS POA at BRAMUN - 3 leadership positions for BRAMUN 2020: 1 as Chair and 2 as Vice-chair.​
---
/
ADVANCED PLACEMENT
AP Capstone Diploma = 9 candidates - 100% obtained​
AP Capstone Certificate= 2 candidates - 100% obtained​
AP Scholars = 4, AP Scholars with Honor = 3 , AP Scholars with Distinction = 3​
-
AP EXAMS 2020: 64 students took a total of 142 exams​
95% of Exam takers scored a 3 or higher!​

/
Class of 2020
American University (2)​
Antioch College​
Babson College​
Bentley College​
Boston University​
Cardiff University (UK)​
Case Western Reserve University​
City, University of London( UK)​
Columbia College Chicago​
DePaul University​
Duquesne University​
Emerson College​
Emory University​
Flagler College (2)​
Florida Atlantic University​
Florida Institute of Technology​
Florida International University​
Fordham University (2)​
Franklin and Marshall College​
Franklin University Switzerland​
George Mason University​
George Washington University​
Goldsmiths, University of London​
Hofstra University​
Hult International Business School (2)

InHolland (Netherlands)​
Insa Lyon (France)​
Iowa State University​
Jacobs University (Germany)​
John Cabot University (2)​
Johnson & Wales University (2)​
Keiser University​
Lehigh University​
Leiden University (Netherlands) (2)​
Loyola Marymount University​
Lynn University (3)​
McGill University (Canada)(2)​
Michigan State University​
New York University - Shanghai (2)​
Northeastern University (2)​
Orange Coast Community College​
Pace University​
Pennsylvania State University​
Queen's University (Canada)​
Rollins College (3)​
Royal Holloway, University of London​
Saint Leo University​
Saint Louis University​
San Diego State University​
Sciences Po (France)

Sewanee-the University of the South​
St Mary's University​
Temple University​
The University of British Columbia (Canada) (4)​
The University of Edinburgh​
The University of Tampa (2)​
Università Bocconi​
University of Amsterdam (2)​
University of Central Florida​
University of Glasgow​
University of Illinois At Urbana-Champaign​
University of Iowa​
University of Miami​
University of Michigan-Ann Arbor​
University of Notre Dame​
University of Pittsburgh​
University of Southern California​
University of Toronto (Canada) (3)​
University of Worcester (UK)

n = 19
(students in the​ class of 2020)
Programs that students
will enrolled in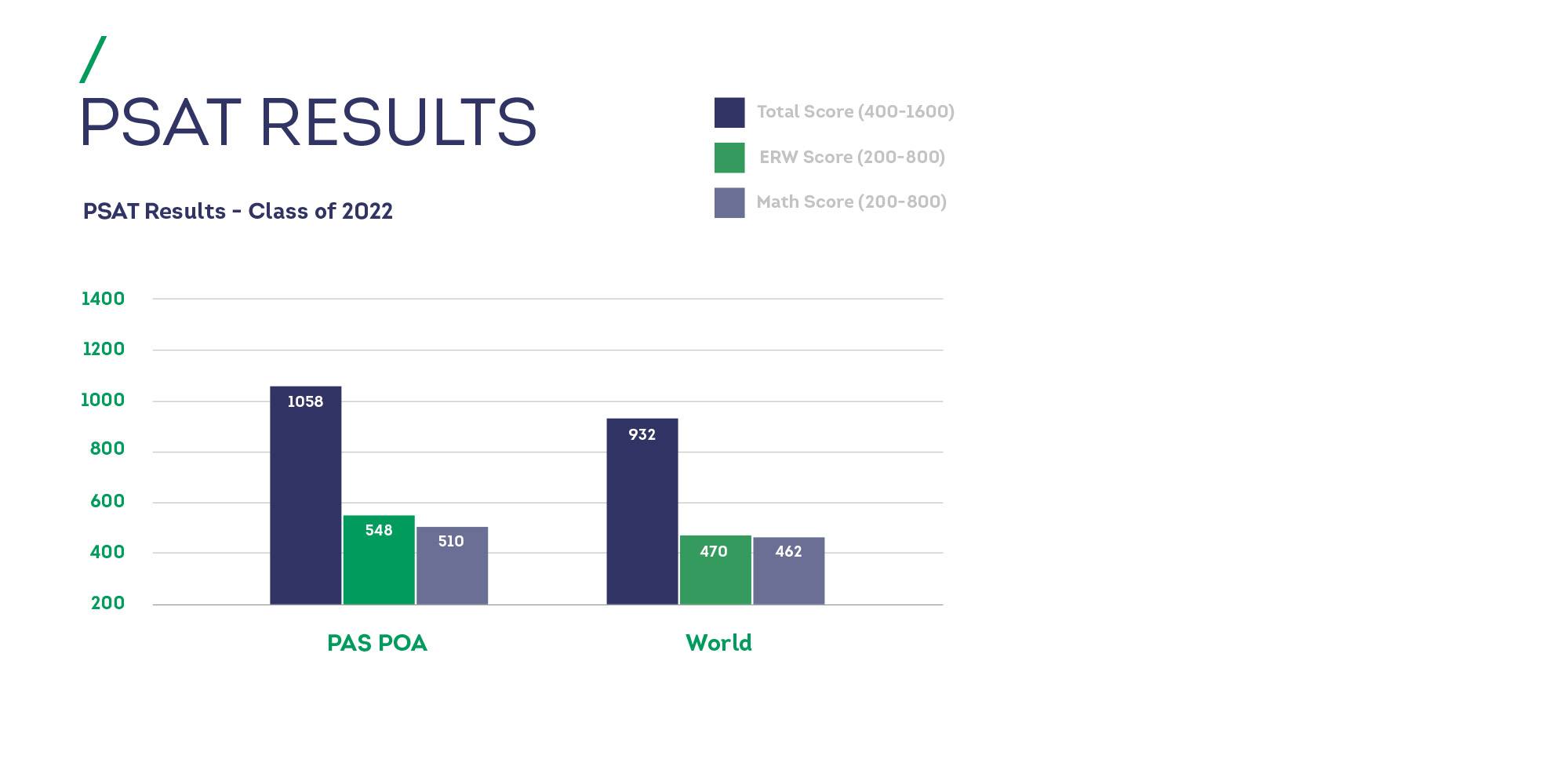 /


Brazilian
Studies Program

At PAS POA, we believe in preparing students for their future endeavors wherever that may be! We know that 25% of our students have opted to continue their higher education here in Brazil over the last five years. Each year, we make developments in our Brazilian Studies Program with these students in mind. Before the start of each school year, we contemplate how we can better prepare students to succeed here in Brazil, should they choose to stay. Thanks to the efforts of our dedicated Brazilian Studies Program, led by our Brazilian Program Director, with the support of several outside partners and consultants, the following measures were taken in the 2019/2020 school year to help prepare students for success here in Brazil. ​

• Physical Geography and Brazilian History offered as a vestibular year-long elective. ​

• As part of the main curriculum, G12 students can choose between Brazilian Literature and Portuguese Grammar for ENEM and UFRGS or Creative Writing and Contemporary Literature​

• G12 sciences were reorganized so that students receive a Biology review and a Chemistry review while they develop their individual projects.​

• Sociology and Philosophy curricula completely integrated with Brazilian Social Studies (BSS) addressing topics covered by Vestibular​


---
/


Athletics - Huskies,
raised by wolves!​​

During the first semester of the school year, our school teams (basketball, volleyball, soccer, and indoor soccer) were very active! In addition to participating in several local games, our boys and girl soccer teams won the SILVER MEDAL in the Grand Prix, playing against larger schools from Porto Alegre such as Farroupilha, Anchieta, Colégio Americano , Champagnat, La Salle Santo Antônio and Província de São Pedro. During Season I of ISSL, our boys soccer and girls soccer teams came in fifth, with both basketball teams placing in seventh!
---
/


Professional
Development

Life-long learning is not just something we say, but something that we actively promote! Each year PAS POA teachers are provided with opportunities to increase their knowledge, making them even better educators. The year began with Social Emotional Learning and Morning Meeting protocol training with the consultant, Camila Dever. In September, author, educator, and public speaker Jennifer Abrams conducted sessions on having hard conversations and respectful work interactions. In November, Dr. Derrick Gay came and conducted sessions around diversity and inclusion. Additionally, PAS POA educators participated in Teachers College Readers and Writers workshops in Curitiba, and eight PAS POA educators were selected to present at the 2020 AASSA Educators Conference.

Continuing to provide high-quality professional learning to our faculty, PAS POA has engaged for the second time in a partnership with the State University of New York (SUNY), Buffalo, to offer a Master's Degree in Multidisciplinary Studies. This program brings university professors to our school for one week-long, intensive courses. The program is comprised of 10 such experiences and will be completed over three years. During this first year of the program, 15 of our educators completed the first three courses. After entirely student-centered days, the cohort members become learners themselves, between 3-4 hours in the evenings and a full weekend dedicated to classwork and home assignments. ​

​From Rodrigo Oliveira, Secondary Teacher Assistant:​
During the last week, I had several classes provided by PAS as part of the SUNY Master's Program where I looked over Kagan Structures, Bloom's taxonomy and how to develop activities that engage all the students, but at the same time allows for individual accountability.​ It is really good to know that the conversations going on at PAS during our PDs match the ones taught by specialists from the best universities out there. I feel really motivated and eager to apply some of the structures I learned with our students this semester.​

From Izelda Freitas, Primary Portuguese Language Teacher:​
This course made me think about new strategies to teach my classes. I love learning all the time!!!​

From Dr. Wanda Dean, Professor:​
I applaud the administration and board of the Pan American School for their commitment to helping their staff continue to acquire additional professional skills. Our group of thirteen has worked extremely hard even after they had worked all day. They are dedicated to learning more that will enable them to be better teachers.​
---